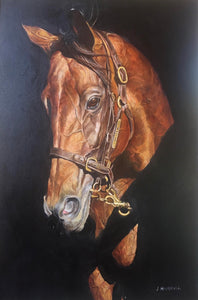 Limited Edition print on giclee paper 
A2
Single mount with a silver frame 
Winx is now a retired champion Australian Racehorse who won 33 consecutive races including 25 group 1's 
Although we did not get to see her race in the UK we all appreciate all champion thoroughbreds and she was a queen of the turf 
This incredible piece of art captures the character and charm of this queen of Australia. Sorry but the original is sold 
ABOUT THE ARTIST 
JANET HAMMILL 
I was born U.K, in the Yorkshire Dales. My family farmed 300 acres and my love of horses began there. I can remember being placed astride the farm's draught horse when just a toddler. Later we were to migrate to Australia and my family owned a farm in the Snowy Mountains. I spent my teenage years riding in the bush, attending Pony Club and competing with my horse in local shows.
There have been artists in my family for several generations and I have been painting in oils since I was twelve. My formal art education took place at Alexander Mackie College (Sydney) where I majored in painting, Canberra School of Art and Phillip Institute (now RMIT).
Though trained as an abstract artist, I spent much of my time in the life drawing room where I acquired a sound knowledge of anatomy and drawing. An artistic turning point for me was viewing G.W Stubbs' iconic horse painting  "Whistlejacket" at the Tate in London. From this point I was inspired to commence a career in equine art where I was able to combine my love of horses, my knowledge of their confirmation and anatomy with my skill as a figurative artist.
I am grateful to many individuals in the racing industry for their support, notably Blackiston Racing Stables for allowing me to attend early morning track work at Flemington, Birdsville Racing club for a behind the scenes view of racing in the bush and photographer, Sharon Chapman for her mentoring and support. 
 THOROUGBRED COMMUNICATIONS AGENCY IS THE UK REPRESENTATIVE FOR JANET HAMMILL GET IN CONTACT FOR ANY COMMISSION PIECE, REPAINTING OF ORIGINAL PAINTINGS OR EXHIBITIONS.
CONTACT: Lynn
Email: Horseracing2@sky.com
Tel: 01233 690134   Mob: 07792118124