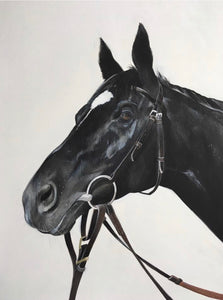 Limited edition Giclee print of 25. Each print is individually checked, numbered and signed by the artist.​
Made using the Giclee printing process: lightfast inks on acid-free, high-grade Hahnemuhle ​paper from Germany.​
33 x 48cm
with frame
About Rebecca Arnold: The Artist
Rebecca Arnold, lives and works in a small village on the outskirts of Manchester. Her paintings focus solely on racehorses, depicting the magnificent Thoroughbred.
Rebecca has exhibited her paintings since 1994 and in addition, has been one of the invited artists to take part in the world renowned Secret show at the Royal College of Art from 2005 onwards.
Please get in contact if you would like Rebecca to do you a commissioned Art piece.
Education:
Art Psychotherapy Postgraduate Diploma​
The University of Sheffield (2002-2005)
BA (Hons) Fine Art (2:1)​
Leeds Metropolitan University (1991-94)
Exhibitions:
GROUP EXHIBITIONS
2018
'The Horse In Art', Society of Equestrian Artists, Sally Mitchell's Gallery, Tuxford
'RCA Secret 2018', The Royal College of Art, Kensington Gore, London
2017
'RCA Secret 2017', The Royal College of Art, Kensington Gore, London
2016​
'RCA Secret 2016', The Royal College of Art, Kensington Gore, London​
'RCA Secret 2015', Dyson Building, Battersea, London​
'RCA Secret 2014', The Royal College of Art, Dyson Building, Battersea, London
2013​
'RCA Secret 2013', The Royal College of Art, Dyson Building, Battersea, London​
'Launch Show', Entwistle Art & Framing, Sunderland Street, Macclesfield​
2011​
'RCA Secret 2011', The Royal College of Art, Kensington Gore, London​
2010​
'RCA Secret 2010', The Royal College of Art, Kensington Gore, London​
2009​
'RCA Secret 2009', The Royal College of Art, Kensington Gore, London
2008​
'RCA Secret 2008', The Royal College of Art, Kensington Gore, London​
'Summer Exhibition', The White Gallery, Cheshire​
2007​
'RCA Secret 2007', The Royal College of Art, Kensington Gore, London
2006​
'RCA Secret 2006', The Royal College of Art, Kensington Gore, London
2005​
'RCA Secret 2005', The Royal College of Art, Kensington Gore, London​
'Rebecca Arnold - Installation Feature', My Goodness, Northern Quarter, Manchester​
2002​
'Eight Painters', Sound & Vision, Edinburgh​
1996​
'As It Is', Rebecca Arnold & Alexandra Baraitser, The Barbican Centre, London
'Picture This', The Florence Trust, Highbury, London​
'Fruits of The Earth', Beatrice Royal Art Gallery, Eastleigh, Hampshire​
'Group Exhibition', The Florence Trust, Highbury, London​
1995​
'A Sense of Place', The Rebecca Hossack Gallery, Windmill Street, London​
'The Florence Trust Artists', Collyer Bristow Gallery, Bedford Row, London​
'Open Studio', The Florence Trust, Highbury, London
'The Sea', Beatrice Royal Art Gallery, Eastleigh, Hampshire​
'Winter Exhibition', Beatrice Royal Art Gallery, Hampshire​
1994​
'Fresh Art 1994', The Business Design Centre, Islington, London​
'The Discerning Eye', The Mall Galleries, London​
AWARDS​
Shortlisted - The Gilchrist Fisher Memorial Award (1994, 1995) ​
Finalist - SPACE Studio Award, sponsored by WET PAINT Gallery, London (1994)​
Winner - The Willy Tirr Memorial Award, Leeds Metropolitan University (1994)​
​
PUBLIC COLLECTIONS​
Held in public collections at Leeds Metropolitan University, The Royal Hopsitals NHS Trust, London and also The Florence Trust, London​
​
PRIVATE COLLECTIONS​
England, Scotland, France & Australia​
​
PUBLICATIONS​
The Racing Post (2011)​
Art Review (1996)​
The Sheffield Star (1994)
Please contact me if you would like Rebecca to do a commissioned piece for you
Lynn
Horseracing2@sky.com