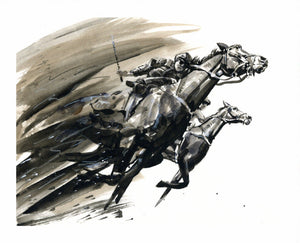 To The Finish Line
Horse Racing original watercolour print "To the finish line" 
8" x 11" A4 giclee print in a white cardboard mount
with rustic silver frame
Artist: Tim Olden
A little bit of background on Tim, After gaining a BA Honours degree at Southampton Art College in the early 80's, he developed his own business as a graphic designer and commercial artist,  working for national and international companies. He has always had a passion for creating one off pieces.

He is based in the New Forest, he has since gone back to his roots and redeveloped his love for wildlife paintings as well as horse related art, Combining two styles which He loves fluid, contemporary art.
Please contact me if you would like Tim to complete a commission piece for you.
Lynn
Horseracing2@sky.com