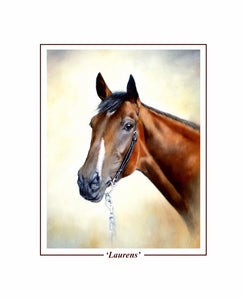 Limited Edition print of champion racehorse Laurens signed
If you prefer an invoice emailed and direct bank payment then please contact Lynn email: Horseracing2@sky.com or via the contact page  
Artist: Brian Halton
Brian was born about 500 yards from Sedgefield Racecourse and has always had an interest in racing. After teaching art and design for a number of years. Brian opened his own gallery in West Yorkshire in 2000 to concentrate on his own work.
Racing however is his main interest and he travels extensively to stables and racecourses both in England and abroad. His paintings have been commissioned by a large number of individuals and sporting operations.
Please contact me If you would like Brian to do a commissioned piece for you.
Lynn
Horseracing2@sky.com